Poinciana Library
101 N Doverplum Ave
Kissimmee, FL 34758
Monday – Thursday: 9am – 9pm
Friday – Saturday: 9am – 6pm
Sunday: 12pm – 6pm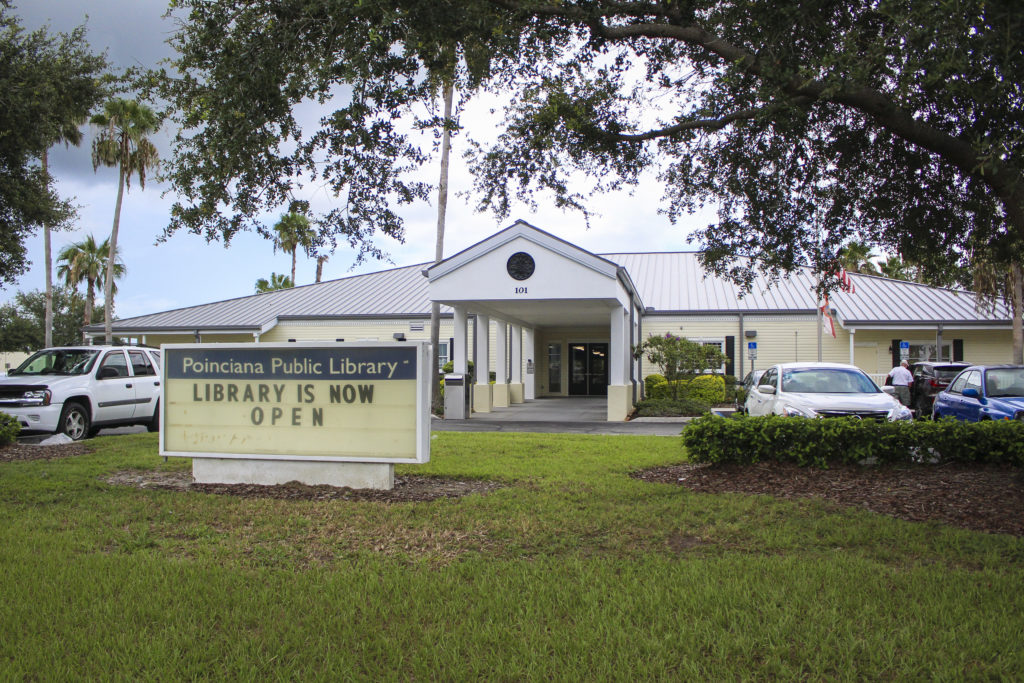 The Poinciana Branch Library is located in southwestern Osceola County near the Polk County border.
---
Rooms Available at Poinciana Library
Poinciana Library Multipurpose Room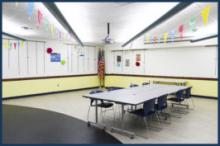 30 ft. x 30 ft.
Includes overhead projector with VGA port, DVD player, tables, and chairs
Occupancy: 60
Patrons must bring their own computer cables and supplies
Upcoming Events at Poinciana
Rhythm, Rhyme, & Storytime
Sing, swing and sway your way through this program dedicated to music and movement!
Rhythm, Rhyme & Toddlertime is an early learning program that combines singing with a wide variety of musical instruments to learn, share and explore. Attendees will be taught finger plays, rhythm movement, dancing, and free play. This creates the perfect opportunity for fun-filled learning as you watch your child develop their vocabulary, counting skills, creative thinking, and listening skills. Recommended age 2-5 years old
Poinciana Library
Tuesday, April 23rd
1:00 PM

to

1:30 PM
One Book, One Community
Introduce your child to Charlotte's Web, the beloved classic by E.B. White. Fern is a little girl who loves her pig Wilbur, but it's up to Charlotte the spider to save Wilbur's life. This touching story is one children will never forget reading for the first time. In partnership with the Orlando Sentinel, kids that attend will receive a copy of the book to read, and enjoy activities, games, and trivia that will bring the book to life.  
Poinciana Library
Tuesday, April 23rd
4:30 PM

to

5:30 PM
Understanding Credit
Take your financial future in a new direction!  Learn how financial institutions evaluate your credit, the strategies to maintain a good credit record and the best practices to repair your credit score. Presented by CFE Federal Credit Union.
Poinciana Library
Tuesday, April 23rd
6:00 PM

to

7:00 PM
Great Beginnings Storytime
Encourage your child's love of reading with great books and enrichment activities that build early literacy skills.  Age: 18 months-5 yrs.
Poinciana Library
Wednesday, April 24th
10:00 AM

to

10:30 AM
Gadgets, Gears, and Gizmos Toddler Challenge
A program designed to enhance your children's Science, Technology, Engineering, and Math skills. Improve your kids' imagination and creativity by challenging them to build their own cars, animals, robots and anything they can imagine! 
Poinciana Library
Wednesday, April 24th
11:00 AM

to

11:30 AM
Tech Tutoring
Individualized training on computers or personal mobile devices.
Entrenamiento individualizado en computadoras o dispositivos móviles personales.
Poinciana Library
Wednesday, April 24th
2:00 PM

to

3:00 PM
Everyday English
Improve your English through conversation. Practice speaking with others in a class taught by Florida State certified teachers in partnership with the Adult Learning Center of Osceola.  All home/native languages welcome. 
Poinciana Library
Wednesday, April 24th
6:30 PM

to

8:30 PM
Microsoft Word Nivel 4
Es muy importante guardar los documentos. Aprenda a "Guardar" y "Guardar Como" en una variedad de formas
Poinciana Library
Thursday, April 25th
10:00 AM

to

11:00 AM