Poinciana Library
101 N Doverplum Ave
Kissimmee, FL 34758
Monday – Thursday: 9am – 9pm
Friday – Saturday: 9am – 6pm
Sunday: 12pm – 6pm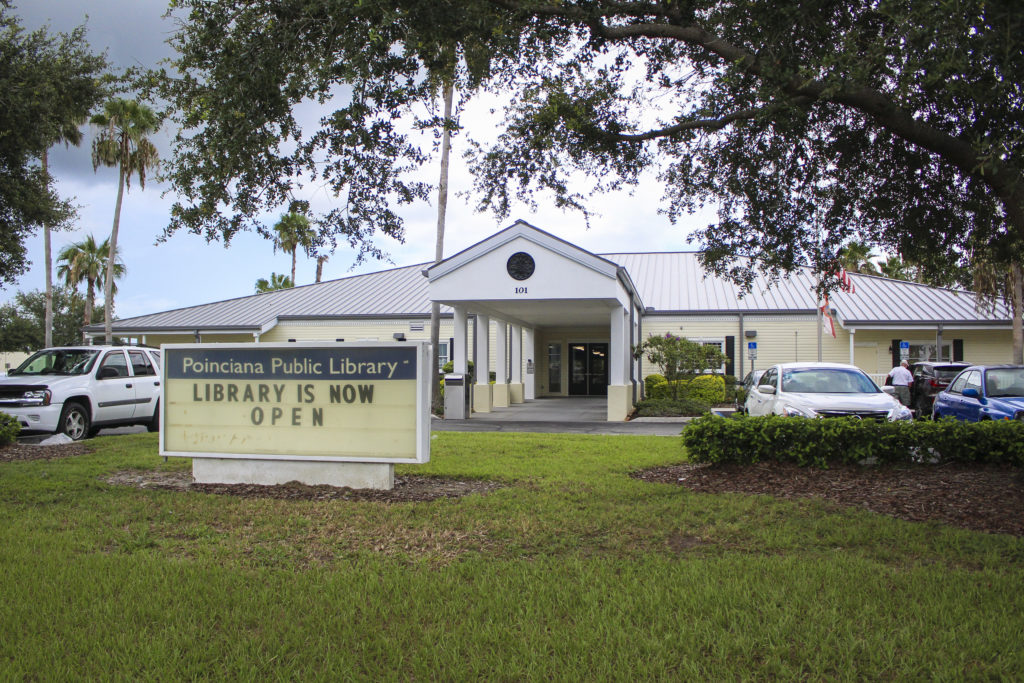 The Poinciana Branch Library is located in southwestern Osceola County near the Polk County border.
---
Rooms Available at Poinciana Library
Poinciana Library Multipurpose Room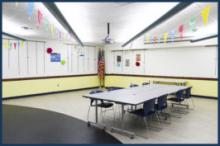 30 ft. x 30 ft.
Includes overhead projector with VGA port, DVD player, tables, and chairs
Occupancy: 60
Patrons must bring their own computer cables and supplies
Upcoming Events at Poinciana
Everyday English
Improve your English through conversation. Practice speaking with others in a class taught by Florida State certified teachers in partnership with the Adult Learning Center of Osceola.  All home/native languages welcome. 
Poinciana Library
Wednesday, February 20th
6:30 PM

to

8:30 PM
Tinkering Toddlers
Children 18 months to 4 years old, work on your fine motor and gross motor skills while learning your ABCs, colors, and numbers.
Sponsored by Friends of the Poinciana Library.
Poinciana Library
Thursday, February 21st
10:00 AM

to

11:00 AM
Computadora Basica Nivel 3
Organice archivos en carpetas, elimine archivos y desocupar la papelera de reciclaje.
Poinciana Library
Thursday, February 21st
10:00 AM

to

11:00 AM
Homeschool Book Club
Connect literacy to STEAM! Kids of all ages will read the Spiderwick Chronicles series and report back to do experiments, activities, and crafts that bring the books to life. All activities are meant to enhance the reading of the  Spiderwick Chronicles while also teaching different concepts and skills. Those who choose not to read the books are still invited to partake in the activities.
Poinciana Library
Thursday, February 21st
12:30 PM

to

1:30 PM
Family Fun Night
Take a break from your busy week to spend quality time as a family. Board games, crafts as a family, solve STEAM problems together or work on a puzzle while having snacks. Each week will be a new adventure to take as a family.
First Week: Board with Pizza   Pizza and Soda donated by Dominos Pizza of Poinciana
Second Week Minute to Win It
Third week: Bits and Pieces
Fourth Week: Everything is Awesome Lego Party
Fifth Week: Makerspace
Poinciana Library
Thursday, February 21st
4:30 PM

to

5:30 PM
Acrylic Painting for Adults
Flex your creative muscle in this fun and instructive class on acrylic painting. All supplies are included except the canvas. 
Poinciana Library
Saturday, February 23rd
10:00 AM

to

12:00 PM
Learn 2 Read
Help your child develop an early love for reading. This is an interactive experience providing how-to techniques for parents and non-school age children (infants/toddlers). Presented by The Parent Involvement Team of the Osceola County School District.
Poinciana Library
Monday, February 25th
10:00 AM

to

11:00 AM
Rhythm, Rhyme, & Storytime
Sing, swing and sway your way through this program dedicated to music and movement!
Rhythm, Rhyme & Toddlertime is an early learning program that combines singing with a wide variety of musical instruments to learn, share and explore. Attendees will be taught finger plays, rhythm movement, dancing, and free play. This creates the perfect opportunity for fun-filled learning as you watch your child develop their vocabulary, counting skills, creative thinking, and listening skills. Recommended age 2-5 years old
Poinciana Library
Tuesday, February 26th
1:00 PM

to

1:30 PM